Global Library
There are 1,629 ebooks with this criteria in the database
Los inocentes
Baldacci, David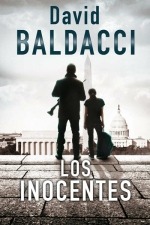 ePub
Language: Spanish | Category: Novel (Mystery) | Audio Book: Not Available
Estados Unidos tiene enemigos, algunos de ellos personas sin escrúpulos a quienes no pueden detener ni la policía ni el FBI ni el ejército siquiera. En esos casos, el gobierno recurre a Will Robie, un sicario frío e implacable que nunca hace preguntas y siempre atrapa a su presa. Pero quizá Will Robie acaba de cometer el primer —y último— error de su carrera.
El trabajo más reciente que le han encomendado ha salido mal. Robie ha sido enviado a eliminar a una persona en Washington, pero en la misión hay algo que no encaja, y él hace algo impensable: se niega a matar.
A partir de ese momento, Robie se convierte en el blanco y debe escapar de su propia gente. En su huida, se cruza con una adolescente díscola que ha escapado de un hogar de acogida. Pero no es un fugitiva cualquiera: sus padres han sido asesinados y su propia vida corre peligro. Contraviniendo todas sus costumbres profesionales, Robie decide salir de las sombras para salvar la vida de la muchacha… y tal vez la suya propia.
Para obtener más información sobre
Baldacci, David
y
Los inocentes
se puede consultar:
Delibris.org is an initiative supported by the Midwest Theological Forum (MTF) that springs from experiences of people that share a passion for reading and that take interest in known, from a catholic perspective, the content of books that have caught their attention.
Back
Others books by Baldacci, David
There are
19 ebooks
by this Author
Baldacci, David - Sotto tiro (John Puller, 1) - Language: Italian, Novel - Format: ePub
John Puller è un veterano di guerra e il miglior agente speciale del Comando dell'esercito degli Stati Uniti per le indagini penali. Suo padre era una leggenda dell'aeronautica e suo fratello, un alto ufficiale dell'esercito, sta (More)
Baldacci, David - Doppia verità (John Puller, 2) - Language: Italian, Novel - Format: ePub
John Puller non è semplicemente un agente speciale dell'Esercito degli Stati Uniti, ma la punta di diamante della Criminal Investigation Division, l'uomo a cui ci si affida per risolvere i crimini più complessi ed enigmatici. (More)
Baldacci, David - La Fuga (John Puller, 3) - Language: Italian, Novel - Format: ePub
Lo United States Disciplinary Barracks non è una prigione come le altre. Qui vige una disciplina militare. I suoi sistemi di sicurezza non hanno uguali. Da qui nessuno è mai fuggito… fino ad ora.Robert, fratello maggiore (More)
Baldacci, David - The Width of the World (Vega Jane, 3) - Language: English, Novel - Format: ePub
This is it. Vega Jane's time. She's been lied to her whole life, so she breaks away from Wormwood, the only home she's ever known, in search of the truth. She battles horrors to fight her way across the Quag with her best friend, (More)
Baldacci, David - The Keeper (Vega Jane, 2) - Language: English, Novel - Format: ePub
Master storyteller David Baldacci is back with Vega Jane, the heroine with the iron will from his instant #1 global bestselling and award-winning fantasy debut, The Finisher. Vega Jane was always told no one could leave the town (More)
Baldacci, David - The Finisher (Vega Jane, 1) - Language: English, Novel - Format: ePub
Why would Quentin Herms flee into the Quag? There was nothing in the Quag except certain death. Vega Jane has never left the village of Wormwood. But this isn't unusual — nobody has ever left the village of Wormwood. At least not (More)
Baldacci, David - Vega Jane y el guardián (2015) - Language: Spanish, Novel - Format: ePub
A Vega Jane siempre le han dicho que nadie puede escapar de Wormwood, que más allá no hay nada, excepto el Quag, un mundo salvaje repleto de peligros. Y ella siempre lo ha aceptado así, hasta la noche en la que descubre un secreto (More)
Baldacci, David - Vega Jane y el reino de lo desconocido (2014) - Language: Spanish, Novel - Format: ePub
¿Por qué habría huido Quentin Hermes al Quag? Allí no había nada salvo la muerte segura. Vega Jane nunca ha salido del pueblo de Amargura. Pero eso no es nada raro, porque nadie ha salido nunca de ese lugar. Por lo menos hasta que (More)
Baldacci, David - Stone Cold - Language: English, Novel - Format: ePub
Oliver Stone, the leader of the mysterious group that calls itself the Camel Club, is both feared and respected by those who've crossed his path. Keeping a vigilant watch over our leaders in Washington, D.C., the Camel Club has (More)
Baldacci, David - Máximo impacto - Language: Spanish, Novel - Format: ePub
Eficiente e implacable, Will Robie es el hombre a quien recurre el gobierno de Estados Unidos para eliminar a los peores enemigos del estado. Sin embargo, hay alguien capaz de igualar los talentos de Robie: su colega Jessica Reel, (More)
Baldacci, David - Los inocentes - Language: Spanish, Novel - Format: ePub
Estados Unidos tiene enemigos, algunos de ellos personas sin escrúpulos a quienes no pueden detener ni la policía ni el FBI ni el ejército siquiera. En esos casos, el gobierno recurre a Will Robie, un sicario frío e implacable que (More)
Baldacci, David - The Camel Club - Language: English, Novel - Format: ePub
The Camel Club. Four members, four stories, one philosophy. Men with no past and no future, they spend their time studying wild conspiracy theories that reach to the highest levels of government. One fateful night, The Camel Club (More)
Baldacci, David - Memoria total - Language: Spanish, Novel - Format: ePub
La vida de Amos Decker cambió para siempre… dos veces. La primera vez fue en el terreno de juego. Amos, atleta alto y robusto, era la única persona de Burlington, su ciudad natal, que se convirtió en jugador profesional de fútbol (More)
Baldacci, David - Zero day - Language: English, Novel - Format: ePub
Zero Day is a thriller novel written by David Baldacci. This is the first installment in the John Puller book series. Mountain-sized and über-brainy, John Puller is about as unconquerable as mere mortals get to be. An (More)
Baldacci, David - Hell's Corner - Language: English, Novel - Format: ePub
Oliver Stone is an American ex-agent, or better still, an assassin who worked for the American government and retired. During a walk, he witnesses by chance a murder attempt against the UK's Prime Minister in the park in front of (More)
Baldacci, David - The Escape - Language: English, Novel - Format: ePub
It's a prison unlike any other. Military discipline rules. Its security systems are unmatched. None of its prisoners dream of escaping. They know it's impossible . . . until now. John Puller's older brother, Robert, was convicted (More)
Baldacci, David - The Christmas Train - Language: English, Novel - Format: ePub
Disillusioned journalist Tom Langdon must get from Washington to Los Angeles in time for Christmas. Forced to travel by train, he begins a journey of rude awakenings, thrilling adventures, and holiday magic. He has no idea that (More)
Baldacci, David - Wish You Well - Language: English, Novel - Format: ePub
From bestselling author and master storyteller David Baldacci, Wish You Well is a dramatic and enthralling tale of family unity in the face of adversity.Tragedy strikes the New York-based Cardinal family when their car is involved (More)
Baldacci, David - Buena suerte - Language: Spanish, Novel - Format: ePub
Buena suerte describe la infancia de dos hermanos, Lou y Oz, cuyas vidas cambian de la noche a la mañana al morir su padre en un accidente. El suceso obligará a los niños a abandonar la trepidante Nueva York de los años cuarenta (More)