Global Library
There are 1,574 ebooks with this criteria in the database
Complete Works of Robert Louis Stevenson
Stevenson, Robert Louis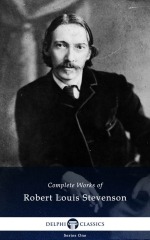 ePub
Language: English | Category: Complete Works of | Audio Book: external webside
The Scottish novelist, poet, essayist and travel writer Robert Louis Stevenson achieved literary celebrity during his lifetime, with the publication of instant classics such as Treasure Island and The Strange Case of Dr. Jekyll and Mr. Hyde. For the first time in publishing history, this comprehensive eBook presents Stevenson's complete works, with numerous illustrations, rare texts, informative introductions and bonus material.
CONTENTS:
The Novels
TREASURE ISLAND
THE BLACK ARROW
PRINCE OTTO
THE STRANGE CASE OF DR. JEKYLL AND MR. HYDE
KIDNAPPED
THE MASTER OF BALLANTRAE
THE WRONG BOX
THE WRECKER
CATRIONA
THE EBB-TIDE
WEIR OF HERMISTON
ST. IVES
HEATHERCAT
THE GREAT NORTH ROAD
THE YOUNG CHEVALIER
The Short Story Collections
NEW ARABIAN NIGHTS
MORE NEW ARABIAN NIGHTS – THE DYNAMITER
THE MERRY MEN AND OTHER TALES AND FABLES
ISLAND NIGHTS' ENTERTAINMENTS
FABLES
TALES AND FANTASIES
UNCOLLECTED STORIES
The Short Stories
LIST OF SHORT STORIES IN CHRONOLOGICAL ORDER
LIST OF SHORT STORIES IN ALPHABETICAL ORDER
The Plays
THE CHARITY BAZAAR
DEACON BRODIE
BEAU AUSTIN
ADMIRAL GUINEA
MACAIRE
The Poetry Collections
A CHILD'S GARDEN OF VERSES
UNDERWOODS
BALLADS
SONGS OF TRAVEL AND OTHER VERSES
ADDITIONAL POEMS
NEW POEMS AND VARIANT READINGS
The Poems
LIST OF POEMS IN CHRONOLOGICAL ORDER
LIST OF POEMS IN ALPHABETICAL ORDER
The Travel Writing
AN INLAND VOYAGE
TRAVELS WITH A DONKEY IN THE CEVENNES
EDINBURGH: PICTURESQUE NOTES
ESSAYS OF TRAVEL
ACROSS THE PLAINS
THE SILVERADO SQUATTERS
THE OLD AND NEW PACIFIC CAPITALS
The Non-Fiction
VIRGINIBUS PUERISQUE AND OTHER PAPERS
FAMILIAR STUDIES OF MEN AND BOOKS
MEMORIES AND PORTRAITS
MEMOIR OF FLEEMING JENKIN
RECORDS OF A FAMILY OF ENGINEERS
ADDITIONAL MEMORIES AND PORTRAITS
LATER ESSAYS
LAY MORALS AND OTHER PAPERS
PRAYERS WRITTEN FOR FAMILY USE AT VAILIMA
A FOOTNOTE TO HISTORY
IN THE SOUTH SEAS
LETTERS FROM SAMOA
JUVENILIA AND OTHER PAPERS
PIERRE JEAN DE BÉRANGER ARTICLE
The Letters
THE LETTERS OF ROBERT LOUIS STEVENSON
VAILIMA LETTERS
The Biographies
THE LIFE OF ROBERT LOUIS STEVENSON by Sir Graham Balfour
ROBERT LOUIS STEVENSON by Alexander H. Japp
THE LIFE OF ROBERT LOUIS STEVENSON FOR BOYS AND GIRLS by Jacqueline M. Overton
THE LIFE OF MRS. ROBERT LOUIS STEVENSON by Nellie Van De Grift Sanchez
More information about
Stevenson, Robert Louis
and
Complete Works of Robert Louis Stevenson
is available in:
Delibris.org is an initiative supported by the Midwest Theological Forum (MTF) that springs from experiences of people that share a passion for reading and that take interest in known, from a catholic perspective, the content of books that have caught their attention.
Back
Others books by Stevenson, Robert Louis
There are
17 ebooks
by this Author
Stevenson, Robert Louis - Complete Works of Robert Louis Stevenson - Language: English, Complete Works of - Format: ePub
The Scottish novelist, poet, essayist and travel writer Robert Louis Stevenson achieved literary celebrity during his lifetime, with the publication of instant classics such as Treasure Island and The Strange Case of Dr. Jekyll (More)
Stevenson, Robert Louis - Cuentos completos - Language: Spanish, Short Stories - Format: ePub
Se reúnen en este volumen, por primera vez en castellano, todos los relatos del gran Stevenson, un escritor que ha encantado a sucesivas generaciones de lectores desde finales del siglo XIX hasta nuestros días. Estos cuentos (More)
Stevenson, Robert Louis - Fábulas - Language: Spanish, Short Stories - Format: ePub
Un año después de publicar El extraño caso del Dr. Jekyll y Mr. Hyde (1886), Stevenson inició la escritura de sus Fábulas, que no aparecerían hasta 1896, dos años después de su muerte. La libertad que le proporcionaba no exponer (More)
Stevenson, Robert Louis - Kidnapped - Language: English, Novel - Format: ePub
David Balfour, a lad of seventeen and newly orphaned, is directed to go and live with his rich uncle, the master of the estate of Shaws in the lowlands of Scotland near Edinburgh. His uncle, Ebenezer (as close a miser as Dickens' (More)
Stevenson, Robert Louis - Il club dei suicidi - Language: Italian, Short Stories - Format: ePub
Il club dei suicidi è il primo racconto della raccolta Le nuove Mille e una notte (The New Arabian Nights, 1882) di Robert Louis Stevenson. È suddiviso in tre parti e ha come protagonisti il Principe Florizel di Boemia e il suo (More)
Stevenson, Robert Louis - El diablo de la botella - Language: Spanish, Short Stories - Format: ePub
Keawe, el protagonista, es oriundo de Hawai. Un día siente la necesidad de conocer otras tierras, así que se dirige a San Francisco. Allí ve una casa preciosa, pero el dueño es un viejo que parece triste. Keawe se pregunta cómo el (More)
Stevenson, Robert Louis - El Extraño caso del Dr. Jekyll y Mr. Hyde - Language: Spanish, Novel - Format: ePub, iSilo
El Extraño caso del Dr. Jekyll y Mr. Hyde (a veces abreviado simplemente a El Dr. Jekyll y Mr. Hyde) es una novela escrita por Robert Louis Stevenson, publicada por primera vez en inglés en 1886, cuyo título original es The (More)
Stevenson, Robert Louis - The Black Arrow - Language: English, Novel - Format: ePub, iSilo
The Black Arrow tells the story of Richard (Dick) Shelton during the Wars of the Roses: how he becomes a knight, rescues his lady Joanna Sedley, and obtains justice for the murder of his father, Sir Harry Shelton. Outlaws in (More)
| | |
| --- | --- |
| | Stevenson, Robert Louis - La isla del tesoro - Language: Spanish, Novel - Format: iSilo |
Stevenson, Robert Louis - La flecha negra - Language: Spanish, Novel - Format: ePub, iSilo
Publicada originalmente como folletín a lo largo de 1883, año en que vio también la luz como libro «La isla del tesoro», «La flecha negra» se desarrolla en los primeros años de la Guerra de las dos rosas, a mediados del siglo XV, (More)
Stevenson, Robert Louis - Aventuras de un cadáver - Language: Spanish, Novel - Format: ePub, iSilo
Las tribulaciones de unos competidores a la caza de una herencia constituyen la base de este apasionante relato donde la rápida sucesión de acontecimientos, acompañada de un exquisito humor, mantendrá al lector en vilo como en una (More)
| | |
| --- | --- |
| | Stevenson, Robert Louis - Lo Strano caso di Dr. Jekyll e Mr Hyde - Language: Italian, Novel - Format: iSilo |
| | |
| --- | --- |
| | Stevenson, Robert Louis - Le signore di Ballantrae - Language: Italian, Novel - Format: iSilo |
| | |
| --- | --- |
| | Stevenson, Robert Louis - L'isola del Tesoro - Language: Italian, Novel - Format: iSilo |
Stevenson, Robert Louis - The Master of Ballantrae - Language: English, Novel - Format: ePub, iSilo
Stevenson's brooding historical romance demonstrates his most abiding theme—the elemental struggle between good and evil—as it unfolds against a hauntingly beautiful Scottish landscape, amid the fierce loyalties and violent (More)
| | |
| --- | --- |
| | Stevenson, Robert Louis - Fables - Language: English, Short Stories - Format: iSilo |
Stevenson, Robert Louis - Treasure Island - Language: English, Novel - Format: ePub, iSilo
Treasure Island is an adventure novel by Scottish author Robert Louis Stevenson, narrating a tale of "buccaneers and buried gold". First published as a book on 23 May 1883, it was originally serialized in the children's magazine (More)