Global Library
There are 1,592 ebooks with this criteria in the database
Vida de ese chico
Wolff, Tobias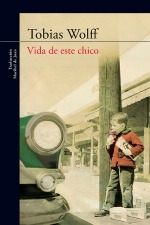 ePub
Language: Spanish | Category: Novel (Realistic) | Audio Book: Not Available
En Vida de este chico, Tobias Wolff narra sus recuerdos de niño y adolescente, cuando, divorciados sus padres, recorría con su madre con la que formaba una auténtica pareja telepática las carreteras de Estados Unidos de un lado a otro del país.
Toby o Jack, como le gusta llamarse a sí mismo en homenaje a su adorado Jack London absorberá entre mapas, whisky, peleas a puñetazos, amistades y traiciones, la esencia de esa América de los años cincuenta que marcará irremediablemente su juventud.
Una juventud con toques minimalistas y dickensianos a un tiempo y que sirve aquí a su autor para trazar con humor y ternura el retrato de un tiempo pasado en el espejo de su propia imagen.
Vida de este chico ha sido llevada al cine en 1993 con Leonardo di Caprio en el papel del propio Wolff.
Para obtener más información sobre
Wolff, Tobias
y
Vida de ese chico
se puede consultar:
Delibris.org is an initiative supported by the Midwest Theological Forum (MTF) that springs from experiences of people that share a passion for reading and that take interest in known, from a catholic perspective, the content of books that have caught their attention.
Back
Others books by Wolff, Tobias
There are
1 ebooks
by this Author
Wolff, Tobias - Vida de ese chico - Language: Spanish, Novel - Format: ePub
En Vida de este chico, Tobias Wolff narra sus recuerdos de niño y adolescente, cuando, divorciados sus padres, recorría con su madre con la que formaba una auténtica pareja telepática las carreteras de Estados Unidos de un lado a (More)