Global Library
There are 1,629 ebooks with this criteria in the database
La conspiración Mozart (Ben Hope, 2)
Mariani, Scott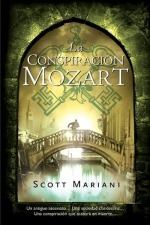 ePub
Language: Spanish | Category: Novel (Mystery) | Audio Book: Not Available
«La conspiración Mozart», publicada en 2008, encuentra a Ben Hope investigando el extraño y brutal asesinato de su amigo, el pianista Oliver Llewellyn. Las únicas pistas, que provienen de una vieja carta que se cree que fue escrita por el mismísimo Wolfgang Amadeus Mozart, lo llevan a preguntarse si su muerte está conectada de alguna manera con la de Oliver.
Acompañado por Leigh Llewelyn, una estrella de la ópera que fue su novia en el pasado y es hermana de su amigo muerto, Ben emprenderá una incansable búsqueda de la verdad que lo llevará desde los majestuosos capiteles de Oxford, pasando por los laberínticos canales de Venecia y la imponente arquitectura vienesa hasta las montañas nevadas de Eslovenia para desvelar la verdad oculta.
Para obtener más información sobre
Mariani, Scott
y
La conspiración Mozart (Ben Hope, 2)
se puede consultar:
Delibris.org is an initiative supported by the Midwest Theological Forum (MTF) that springs from experiences of people that share a passion for reading and that take interest in known, from a catholic perspective, the content of books that have caught their attention.
Back
Others books by Mariani, Scott
There are
2 ebooks
by this Author
Mariani, Scott - La conspiración Mozart (Ben Hope, 2) - Language: Spanish, Novel - Format: ePub
«La conspiración Mozart», publicada en 2008, encuentra a Ben Hope investigando el extraño y brutal asesinato de su amigo, el pianista Oliver Llewellyn. Las únicas pistas, que provienen de una vieja carta que se cree que fue (More)
Mariani, Scott - El secreto del alquimista (Ben Hope, 1) - Language: Spanish, Novel - Format: ePub
Una emocionante búsqueda del tesoro dotada de un ritmo vertiginoso que cautivará a los seguidores de Kate Mosse y la serie de "Bourne".Ben Hope, un antiguo miembro de élite de las fuerzas aéreas británicas, se siente atormentado (More)