Global Library
There are 1,574 ebooks with this criteria in the database
Complete Works of Jules Verne
Verne, Jules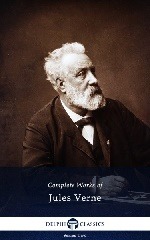 ePub
Language: English | Category: Complete Works of | Audio Book: external webside
Jules Verne is a paramount literary figure, whose monumental series of science-fiction novels has entertained readers for over a hundred years. This amazing eBook offers the most complete collection ever compiled of Verne's work in English translation. Please note: very large file size due to the hundreds of illustrations.
* concise introductions to the novels and other works
* images of how the novels first appeared, giving your eReader a taste of the original texts
* 47 novels in English and each with their own contents table
* rare novels that appear for the first time in digital print, like CLOVIS DARDENTOR, FLIGHT TO FRANCE, FOUNDLING MICK and many more
* FIVE WEEKS IN A BALLOON and other works are fully illustrated
* many short stories, with excellent formatting, and contents tables
* includes all three parts of Verne's enormous non-fiction work CELEBRATED TRAVELS AND TRAVELLERS – fully illustrated
* features the BONUS text of Edgar Allan Poe's novel THE NARRATIVE OF ARTHUR GORDON PYM OF NANTUCKET – accompanying Verne's sequel THE SPHINX OF THE ICE FIELDS
* EVEN includes Verne's French poetry, with contents table
* packed full of images relating to Verne's life, works, places and film adaptations
* scholarly ordering of texts in chronological order and literary genres, allowing easy navigation around Verne's immense oeuvre
CONTENTS:
The Novels
FIVE WEEKS IN A BALLOON
A JOURNEY TO THE CENTRE OF THE EARTH
FROM THE EARTH TO THE MOON
THE ADVENTURES OF CAPTAIN HATTERAS
THE CHILDREN OF CAPTAIN GRANT
AROUND THE MOON
TWENTY THOUSAND LEAGUES UNDER THE SEA
A FLOATING CITY
THE ADVENTURES OF THREE ENGLISHMEN AND THREE RUSSIANS IN SOUTH AFRICA
THE FUR COUNTRY
AROUND THE WORLD IN EIGHTY DAYS
THE MYSTERIOUS ISLAND
THE SURVIVORS OF THE CHANCELLOR
MICHAEL STROGOFF
OFF ON A COMET
THE UNDERGROUND CITY
DICK SAND: A CAPTAIN AT FIFTEEN
THE BEGUM'S FORTUNE
TRIBULATIONS OF A CHINAMAN IN CHINA
THE STEAM HOUSE
EIGHT HUNDRED LEAGUES ON THE AMAZON
THE GREEN RAY
THE SCHOOL FOR ROBINSONS
KÉRABAN THE INFLEXIBLE
THE ARCHIPELAGO ON FIRE
THE STAR OF THE SOUTH
MATHIAS SANDORF
ROBUR THE CONQUEROR
THE LOTTERY TICKET
THE FLIGHT TO FRANCE
THE WRECK OF THE CYNTHIA
NORTH AGAINST SOUTH
TWO YEARS HOLIDAY
THE PURCHASE OF THE NORTH POLE
FAMILY WITHOUT A NAME
CÉSAR CASCABEL
MISTRESS BRANICAN
THE CARPATHIAN CASTLE
CLAUDIUS BOMBARNAC
FOUNDLING MICK
THE ADVENTURES OF CAPTAIN ANTIFER
THE FLOATING ISLAND
FACING THE FLAG
CLOVIS DARDENTOR
THE SPHINX OF THE ICE FIELDS
THE NARRATIVE OF ARTHUR GORDON PYM OF NANTUCKET by Edgar Allan Poe
THE SUPER ORINOCO*
THE WILL OF AN ECCENTRIC
SECOND FATHERLAND*
THE VILLAGE IN THE TREETOPS*
YARNS OF JEAN-MARIE CABIDOULIN*
THE KIP BROTHERS*
TRAVELING SCHOLARSHIPS*
MASTER OF THE WORLD
A DRAMA IN LIVONIA*
INVASION OF THE SEA*
LIGHTHOUSE AT THE END OF THE WORLD*
THE GOLDEN VOLCANO*
THE THOMPSON AGENCY AND CO.*
THE CHASE OF THE GOLDEN METEOR*
THE DANUBE PILOT*
THE SURVIVORS OF THE 'JONATHAN'*
THE SECRET OF WILHELM STORITZ*
ADVENTURES OF THE BARSAC MISSION*
The Short Stories
MARTIN PAZ
THE BLOCKADE RUNNERS
DR. OX AND OTHER STORIES
FRRITT-FLACC
YESTERDAY AND TOMORROW
A DRAMA IN MEXICO
THE MUTINEERS OF THE BOUNTY
IN THE YEAR 2889
AN EXPRESS OF THE FUTURE
The Poetry (in French)
VERNE'S POETRY
LISTE DES POEMES PAR ORDRE ALPHABÉTIQUE
The Plays (in French)
VERNE'S PLAYS
ONZE JOURS DE SIÈGE
MICHEL STROGOFF
The Non-Fiction
CELEBRATED TRAVELS AND TRAVELLERS
I. THE EXPLORATION OF THE WORLD.
II. THE GREAT NAVIGATORS OF THE EIGHTEENTH CENTURY
III. THE GREAT EXPLORERS OF THE NINETEENTH CENTURY.
* these novels appear only in their original French texts, due to copyright restrictions.
More information about
Verne, Jules
and
Complete Works of Jules Verne
is available in:
Delibris.org is an initiative supported by the Midwest Theological Forum (MTF) that springs from experiences of people that share a passion for reading and that take interest in known, from a catholic perspective, the content of books that have caught their attention.
Back
Others books by Verne, Jules
There are
11 ebooks
by this Author
Verne, Jules - Complete Works of Jules Verne - Language: English, Complete Works of - Format: ePub
Jules Verne is a paramount literary figure, whose monumental series of science-fiction novels has entertained readers for over a hundred years. This amazing eBook offers the most complete collection ever compiled of Verne's work (More)
Verne, Jules - An Antarctic Mystery - Language: English, Novel - Format: ePub
Edgar Allan Poe's telling of Arthur Pym's narrative is shown to be true as events come together that bring out clues that help Captain Len Guy trace the fate of his brother's ship the Jane; the very ship that Arthur Pym was on (More)
Verne, Jules - Viaje al centro de la tierra - Language: Spanish, Novel - Format: ePub
El profesor alemán Otto Lidenbrock descubre un escrito cifrado de un sabio islandés del siglo XII que afirma haber llegado al centro de la Tierra: Arne Saknussemm (basado en la figura de Arne Magnussen, escritor y recopilador de (More)
Verne, Jules - I viaggi di Marco Polo - Language: Italian, History & Biography - Format: ePub
"Sarà nostra cura il dare a questi viaggi il maggior sviluppo possibile, confrontando il lavoro di G. Verne colla lezione del Codice Magliabeccano pubblicato a cura del Bartoli; nonchè coi lavori del Francese Charton; giacchè (More)
Verne, Jules - Veinte mil leguas de viaje submarino - Language: Spanish, Novel - Format: ePub, iSilo
Esta novela se publicó periódicamente en la "Magasin d'Éducation et de Récréation" ) entre marzo de 1869 y junio de 1870.Es una obra narrada en primera persona por el profesor francés Pierre Aronnax, notable biólogo quien es (More)
| | |
| --- | --- |
| | Verne, Jules - La esfinge de los hielos - Language: Spanish, Novel - Format: iSilo |
Verne, Jules - Cinco semanas en globo - Language: Spanish, Novel - Format: ePub, iSilo
Primera novela de Julio Verne, en donde aparecen ya los «ingredientes» de lo que será su futura obra, mezclando hábilmente una intriga plagada de aventuras y sobresaltos de todo tipo y descripciones técnicas, geográficas e (More)
| | |
| --- | --- |
| | Verne, Jules - Ventimila leghe sotto i mari - Language: Italian, Novel - Format: iSilo |
| | |
| --- | --- |
| | Verne, Jules - L'isola misteriosa - Language: Italian, Novel - Format: iSilo |
Verne, Jules - Arround the World in 80 Days - Language: English, Novel - Format: ePub
Around the World in Eighty Days (French: Le tour du monde en quatre-vingts jours) is a classic adventure novel by the French writer Jules Verne, first published in 1873. In the story, Phileas Fogg of London and his newly-employed (More)
Verne, Jules - Michael Strogoff - Language: English, Novel - Format: ePub, iSilo
This is the account of the perilous mission of Michael Strogoff, courier for Czar Alexander II, who is sent from Moscow to the besieged city of Irkutsk, where the governor, brother of the Czar, has taken his last stand against a (More)