Global Library
There are 1,574 ebooks with this criteria in the database
Complete Works of The Bröntes
Brönte, Emily, Charlotte and Anne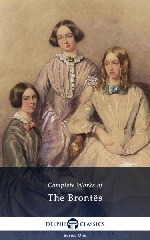 ePub
Language: English | Category: Complete Works of | Audio Book: external webside
The sisters Charlotte, Emily and Anne produced some of the most admired masterpieces of Victorian literature, in spite of their own tragic destinies. This comprehensive eBook presents the complete works of the Brontë Sisters, with numerous illustrations, rare texts appearing in digital print for the first time.
* Beautifully illustrated with images relating to lives of the Brontë sisters and their works
* Concise introductions to the novels and other texts
* ALL 8 novels, with individual contents tables
* Images of how the books were first printed, giving your eReader a taste of the original texts
* Excellent formatting of the texts
* Features rare poetry collections, including the complete poetical works of the Brontë Sisters
* Special chronological and alphabetical contents tables for the poetry
* Easily locate the poems you want to read
* Includes Charlotte Brontë's complete Juvenilia – spend hours exploring the author's early works – many texts available in no other collection
* Special bonus sections featuring the works of Patrick Brontë, the authors' father, and Branwell Brontë, the brother of the famous sisters
* Features four biographies – discover the Brontë's literary life
* UPDATED with new and scarce Juvenilia texts
* UPDATED with rare poetry collections
* UPDATED with more images and detailed introductions
* Scholarly ordering of texts into chronological order and literary genres
CONTENTS:
Charlotte Brontë's Novels
JANE EYRE
SHIRLEY
VILLETTE
THE PROFESSOR
EMMA
Charlotte Brontë's Juvenilia
TALES OF ANGRIA
MINA LAURY
STANCLIFFE'S HOTEL
THE STORY OF WILLIE ELLIN
ALBION AND MARINA
ANGRIA AND THE ANGRIANS
TALES OF THE ISLANDERS
THE GREEN DWARF
ARTHURIANA
OTHER JUVENILIA WORKS
Emily Brontë's Novel
WUTHERING HEIGHTS
Anne Brontë's Novels
AGNES GREY
THE TENANT OF WILDFELL HALL
The Poetry of the Brontë Sisters
POEMS BY CURRER, ELLIS, AND ACTON BELL
THE COMPLETE POEMS OF ANNE BRONTË
THE COMPLETE POEMS OF EMILY BRONTË
The Poems of the Brontë Sisters
LIST OF POEMS IN ALPHABETICAL ORDER
Patrick Brontë's Works
COTTAGE POEMS
TWO SERMONS
"AND THE WEARY ARE AT REST"
Branwell Brontë's Poetry
LIST OF POEMS
The Biographies
THE LIFE OF CHARLOTTE BRONTË by Elizabeth Gaskell
CHARLOTTE BRONTË by T. Wemyss Reid
THE BRONTË FAMILY by Francis A. Leyland
CHARLOTTE BRONTË AND HER CIRCLE by Clement King Shorter
More information about
Brönte, Emily, Charlotte and Anne
and
Complete Works of The Bröntes
is available in:
Delibris.org is an initiative supported by the Midwest Theological Forum (MTF) that springs from experiences of people that share a passion for reading and that take interest in known, from a catholic perspective, the content of books that have caught their attention.
Back
Others books by Brönte, Emily, Charlotte and Anne
There are
1 ebooks
by this Author
Brönte, Emily, Charlotte and Anne - Complete Works of The Bröntes - Language: English, Complete Works of - Format: ePub
The sisters Charlotte, Emily and Anne produced some of the most admired masterpieces of Victorian literature, in spite of their own tragic destinies. This comprehensive eBook presents the complete works of the Brontë Sisters, with (More)