Global Library
There are 1,517 ebooks with this criteria in the database
I Let You Go
Mackintosh, Clare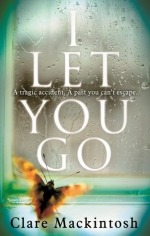 ePub
Language: English | Category: Novel (Psychological) | Audio Book: Not Available
In a split second, Jenna Gray's world descends into a nightmare. Her only hope of moving on is to walk away from everything she knows to start afresh. Desperate to escape, Jenna moves to a remote cottage on the Welsh coast, but she is haunted by her fears, her grief and her memories of a cruel November night that changed her life forever.
Slowly, Jenna begins to glimpse the potential for happiness in her future. But her past is about to catch up with her, and the consequences will be devastating . .
More information about
Mackintosh, Clare
and
I Let You Go
is available in:
Delibris.org is an initiative supported by the Midwest Theological Forum (MTF) that springs from experiences of people that share a passion for reading and that take interest in known, from a catholic perspective, the content of books that have caught their attention.
Back
Others books by Mackintosh, Clare
There are
2 ebooks
by this Author
Mackintosh, Clare - I Let You Go - Language: English, Novel - Format: ePub
In a split second, Jenna Gray's world descends into a nightmare. Her only hope of moving on is to walk away from everything she knows to start afresh. Desperate to escape, Jenna moves to a remote cottage on the Welsh coast, but (More)
Mackintosh, Clare - Te dejé ir - Language: Spanish, Novel - Format: ePub
Todo sucedió muy rápido. No podría haberlo evitado... ¿o sí? En un solo segundo, el mundo de Jenna Gray se ha convertido en una pesadilla. Su único deseo ahora es huir para empezar una nueva vida lejos de todo. Desesperada por (More)