Global Library
There are 1,574 ebooks with this criteria in the database
Complete Works of C. S. Lewis
Lewis, Clive Staples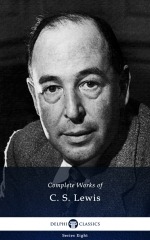 ePub
Language: English | Category: Complete Works of | Audio Book: Not Available
C. S. Lewis, the beloved author of the Chronicles of Narnia — a series of seven children's books now regarded as classics of fantasy literature —was also a celebrated poet, academic, medievalist, literary critic, essayist and Christian apologist. This comprehensive eBook presents Lewis' complete fictional works, with numerous images, rare texts appearing in digital print for the first time, concise introductions and the usual Delphi bonus material.
* Beautifully illustrated with images relating to Lewis' life and works
* Concise introductions to the novels and other texts
* All the novels, with individual contents tables
* Special 'Chronicles of Narnia Order Index', allowing navigation around the Narnia books in both publication and chronological order
* Features rare texts appearing for the first time in digital publishing
* Images of how the books were first published, giving your eReader a taste of the original texts
* Excellent formatting of the texts
* Includes Lewis' poetry books – first time in digital print
* Special chronological and alphabetical contents tables for the poetry
* Easily locate the poems you want to read
* Includes a selection of Lewis' non-fiction
* Features the autobiography 'Surprised by Joy' – discover Lewis' spiritual life
* Scholarly ordering of texts into chronological order and literary genres
CONTENTS:
The Space Trilogy
OUT OF THE SILENT PLANET (1938)
PERELANDRA (1943)
THAT HIDEOUS STRENGTH (1945)
The Chronicles of Narnia Order Index
The Chronicles of Narnia
THE LION, THE WITCH AND THE WARDROBE (1950)
PRINCE CASPIAN (1951)
THE VOYAGE OF THE DAWN TREADER (1952)
THE SILVER CHAIR (1953)
THE HORSE AND HIS BOY (1954)
THE MAGICIAN'S NEPHEW (1955)
THE LAST BATTLE (1956)
Other Fiction
THE PILGRIM'S REGRESS (1933)
THE SCREWTAPE LETTERS (1942)
THE GREAT DIVORCE (1945)
TILL WE HAVE FACES (1956)
SHORT STORIES
The Poetry Collections
SPIRITS IN BONDAGE
DYMER
POEMS, 1964
The Poems
LIST OF POEMS IN CHRONOLOGICAL ORDER
LIST OF POEMS IN ALPHABETICAL ORDER
Selected Non-Fiction
THE PROBLEM OF PAIN
ON STORIES
TRANSPOSITION, AND OTHER ADDRESSES
THE FOUR LOVES
A GRIEF OBSERVED
LETTERS TO MALCOLM: CHIEFLY ON PRAYER
IT ALL BEGAN WITH A PICTURE…
The Autobiography
SURPRISED BY JOY: THE SHAPE OF MY EARLY LIFE
More information about
Lewis, Clive Staples
and
Complete Works of C. S. Lewis
is available in:
Delibris.org is an initiative supported by the Midwest Theological Forum (MTF) that springs from experiences of people that share a passion for reading and that take interest in known, from a catholic perspective, the content of books that have caught their attention.
Back
Others books by Lewis, Clive Staples
There are
13 ebooks
by this Author
Lewis, Clive Staples - Complete Works of C. S. Lewis - Language: English, Complete Works of - Format: ePub
C. S. Lewis, the beloved author of the Chronicles of Narnia — a series of seven children's books now regarded as classics of fantasy literature —was also a celebrated poet, academic, medievalist, literary critic, essayist and (More)
Lewis, Clive Staples - Los cuatro amores - Language: Spanish, Essay & Philosophy - Format: ePub
Un ensayo lúcido, directo y colmado de ejemplos sobre una eterna realidad de la vida del hombre y de la mujer. En este libro, C. S. Lewis refleja sobre los cuatro tipos básicos del amor humano: el afecto, la amistad, el eros y la (More)
Lewis, Clive Staples - The Chronicles of Narnia - Language: English, Novel - Format: ePub, iSilo
The Chronicles of Narnia is a series of seven high fantasy novels by author C.S. Lewis. It is considered a classic of children's literature and is the author's best-known work, having sold over 100 million copies in 47 languages. (More)
Lewis, Clive Staples - El problema del dolor - Language: Spanish, Essay & Philosophy - Format: ePub, iSilo
Años después de su conversión, en 1940, Lewis escribe por encargo The problem of pain (El problema del dolor). Si Dios fuera bueno y todopoderoso, ¿no podría impedir el mal y hacer triunfar el bien y la felicidad entre los (More)
| | |
| --- | --- |
| | Lewis, Clive Staples - La experiancia de leer (an Experiement in Criticism) - Language: Spanish, Essay & Philosophy - Format: iSilo |
| | |
| --- | --- |
| | Lewis, Clive Staples - Crónicas de Narnia 7: La Última Batalla - Language: Spanish, Novel - Format: iSilo |
| | |
| --- | --- |
| | Lewis, Clive Staples - Crónicas de Narnia 6: La silla de plata - Language: Spanish, Novel - Format: iSilo |
| | |
| --- | --- |
| | Lewis, Clive Staples - Crónicas de Narnia 5: La Travesía del Viajero del Alba - Language: Spanish, Novel - Format: iSilo |
| | |
| --- | --- |
| | Lewis, Clive Staples - Crónicas de Narnia 4: El príncipe Caspian - Language: Spanish, Novel - Format: iSilo |
| | |
| --- | --- |
| | Lewis, Clive Staples - Crónicas de Narnia 3: El caballo y su muchacho - Language: Spanish, Novel - Format: iSilo |
| | |
| --- | --- |
| | Lewis, Clive Staples - Crónicas de Narnia 2: El león, la bruja y el armario - Language: Spanish, Novel - Format: iSilo |
| | |
| --- | --- |
| | Lewis, Clive Staples - Crónicas de Narnia 1: El sobrino del mago - Language: Spanish, Novel - Format: iSilo |
| | |
| --- | --- |
| | Lewis, Clive Staples - Cartas del diablo a su sobrino - Language: Spanish, Essay & Philosophy - Format: iSilo |