Global Library
There are 1,629 ebooks with this criteria in the database
Cosecha roja
Hammett, Dashiell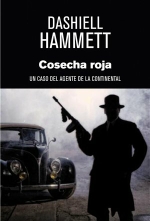 ePub
Language: Spanish | Category: Novel (Mystery) | Audio Book: Not Available
Cosecha roja desarrolla la violenta historia de un detective privado que se propone limpiar de gángsters una pequeña ciudad minera. En ella se compendian ya los elementos característicos de la posterior novela negra norteamericana: el desarrollo de una compleja trama argumental en un contexto social contemplado con mirada crítica, la denuncia de la corrupción de la sociedad capitalista, la rigurosa objetividad descriptiva y los diálogos fluidos e incisivos.
Para obtener más información sobre
Hammett, Dashiell
y
Cosecha roja
se puede consultar:
Delibris.org is an initiative supported by the Midwest Theological Forum (MTF) that springs from experiences of people that share a passion for reading and that take interest in known, from a catholic perspective, the content of books that have caught their attention.
Back
Others books by Hammett, Dashiell
There are
3 ebooks
by this Author
Hammett, Dashiell - El agente de la Continental - Language: Spanish, Novel - Format: ePub
El agente de la Continental es un detective privado que trabaja para la Agencia Continental de Investigaciones de San Francisco. Se caracteriza por su ambigua moral. No duda en intervenir en los casos a los que se enfrenta (More)
Hammett, Dashiell - The Maltese Falcon - Language: English, Novel - Format: ePub
The Maltese Falcon is a 1929 detective novel by Dashiell Hammett, originally serialized in the magazine Black Mask beginning with the September 1929 issue. The story has been adapted several times for the cinema. The main (More)
Hammett, Dashiell - Cosecha roja - Language: Spanish, Novel - Format: ePub
Cosecha roja desarrolla la violenta historia de un detective privado que se propone limpiar de gángsters una pequeña ciudad minera. En ella se compendian ya los elementos característicos de la posterior novela negra (More)