Global Library
There are 1,629 ebooks with this criteria in the database
La guerra de Hart
Katzenbach, John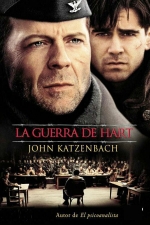 ePub
Language: Spanish | Category: Novel (Mystery) | Audio Book: Not Available
En la La Guerra de Hart, John Katzenbach aúna hábilmente las directrices de una epopeya bélica y las de una novela de corte legal para recrear con gran verismo la vida en un campo de prisioneros en la Alemania nazi.
La novela cuenta cómo William McNamara, un laureado coronel, es apresado por los alemanes y recluido en un campo de prisioneros durante la Segunda Guerra Mundial. McNamara consigue mantener viva la moral de su tropa, pese a ser permanentemente vigilado, y espera, además, una oportunidad para atacar al enemigo. Precisamente, un asesinato le dará la ocasión de poner en marcha su arriesgado plan, con la ayuda del joven teniente Tommy Hart.
Para obtener más información sobre
Katzenbach, John
y
La guerra de Hart
se puede consultar:
Delibris.org is an initiative supported by the Midwest Theological Forum (MTF) that springs from experiences of people that share a passion for reading and that take interest in known, from a catholic perspective, the content of books that have caught their attention.
Back
Others books by Katzenbach, John
There are
2 ebooks
by this Author
Katzenbach, John - El psicoanalista - Language: Spanish, Novel - Format: ePub
«Feliz aniversario, doctor. Bienvenido al primer día de su muerte». Así comienza el anónimo que recibe el psicoanalista Frederick Starks, y que le obliga a emplear toda su astucia y rapidez para, en quince días, averiguar quién es (More)
Katzenbach, John - La guerra de Hart - Language: Spanish, Novel - Format: ePub
En la La Guerra de Hart, John Katzenbach aúna hábilmente las directrices de una epopeya bélica y las de una novela de corte legal para recrear con gran verismo la vida en un campo de prisioneros en la Alemania nazi. La novela (More)