Global Library
There are 1,592 ebooks with this criteria in the database
Padri e figli
Turgenev, Ivan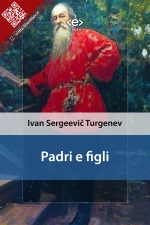 ePub
Language: Italian | Category: Novel (Realistic) | Audio Book: Not Available
Padri e figli è un romanzo dello scrittore russo Ivan Sergeevič Turgenev. Fu pubblicato per la prima volta nel 1862 sulla rivista Il messaggero russo.
È  l'opera più famosa e importante di Turgenev ed è considerato uno dei capolavori della narrativa del XIX secolo per la sua analisi della struttura familiare russa della sua epoca e dei rapporti interpersonali al suo interno. In essa si affronta la tematica del nichilismo, nella sua accezione ateistica, materialistica, positivistica e rivoluzionaria, una tematica che verrà ripresa, approfondita, criticata dalla letteratura russa degli anni 60′ del XIX secolo in maniera estensiva. Non a caso l'opera scatenò diverse polemiche in Russia, e non solo, che costrinsero Turgenev a dare spiegazioni e, di fatto, a diradare la sua attività letteraria.
Per ricevere più informazione di
Turgenev, Ivan
e
Padri e figli
può essere consultata:
Delibris.org is an initiative supported by the Midwest Theological Forum (MTF) that springs from experiences of people that share a passion for reading and that take interest in known, from a catholic perspective, the content of books that have caught their attention.
Back
Others books by Turgenev, Ivan
There are
6 ebooks
by this Author
Turgenev, Ivan - Padres e hijos - Language: Spanish, Novel - Format: ePub
En el contexto de una Rusia sacudida por la reforma agraria y la abolición de la servidumbre, dos estudiantes, Evguéni Bazárov y Arkadi Kirsánov, regresan a sus casas, en provincias, después de tres años de ausencia. El (More)
Turgenev, Ivan - Padri e figli - Language: Italian, Novel - Format: ePub
Padri e figli è un romanzo dello scrittore russo Ivan Sergeevič Turgenev. Fu pubblicato per la prima volta nel 1862 sulla rivista Il messaggero russo. È  l'opera più famosa e importante di Turgenev ed è considerato uno dei (More)
Turgenev, Ivan - Racconti - Language: Italian, Short Stories - Format: ePub, iSilo
Ivan Sergeevič Turgenev (9 novembre 1818 – Bougival, 3 settembre 1883) è stato uno scrittore e drammaturgo russo. La data di nascita è il 28 ottobre secondo il calendario giuliano in vigore all'epoca. Il suo romanzo Padri e figli (More)
Turgenev, Ivan - Terre vergini - Language: Italian, Novel - Format: ePub, iSilo
Terre vergini  è l'ultimo romanzo dello scrittore russo Ivan Turgenev, pubblicato nel 1877. Narra il fallimento dei giovani populisti del movimento dell'andata al popolo del 1874. Ivan Sergeevič Turgenev  è stato uno scrittore e (More)
Turgenev, Ivan - Relatos de un cazador - Language: Spanish, Short Stories - Format: iSilo
Memorias de un cazador o Relatos de un cazador (en ruso: Записки охотника) es una recopilación de relatos breves del escritor ruso Iván Turguénev. El primero de ellos, titulado "Jor y Kalínych", fue publicado en 1847 en una (More)
Turgenev, Ivan - Fathers and Sons - Language: English, Novel - Format: ePub, iSilo
Turgenev wrote Fathers and Sons as a response to the growing cultural schism that he saw between liberals of the 1830s/1840s and the growing nihilist movement. Both the nihilists (the "sons") and the 1830s liberals sought (More)