Global Library
There are 1,574 ebooks with this criteria in the database
I tragici greci: Eschilo, Sofocle, Euripide
Authors Various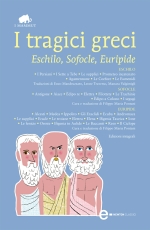 ePub
Language: Italian | Category: Complete Works of | Audio Book: Not Available
Altissima espressione poetica, nonché specchio degli sviluppi politici della polis ateniese nell'epoca classica, la tragedia greca è giunta fino a noi attraverso i secoli mantenendo inalterato il fascino archetipico che ne costituisce l'impronta originaria. Nella rielaborazione drammatica del mito rivivono le convinzioni del singolo poeta ma anche l'eco delle discussioni e della vita civile e morale di un popolo. Così i personaggi di Eschilo non sono più semplici mortali in balia di forze cieche e oscure, ma uomini e donne coscienti e responsabili delle proprie scelte, vittime e colpevoli insieme (basti pensare a Clitennestra), spesso stupendamente delineati nella loro profondità emotiva. Sofocle rispecchia nelle sue opere l'ideale di sereno equilibrio che permeava la cultura greca in quegli anni. Eppure, nelle sue tragedie la lucida consapevolezza dell'infelicità umana, unita al sentimento della dignità insita in ogni sofferenza, e l'analisi razionale coesistono con la percezione di pulsioni insondabili cui soggiace il destino degli uomini (si pensi a Antigone o Elettra o Èdipo). Profondo conoscitore dell'animo umano, Euripide ha creato indimenticabili figure tragiche, da Alcesti a Medea, a Oreste, scegliendo i suoi argomenti tra i miti meno noti e soffermandosi su aspetti secondari dei grandi cicli epici ed eroici. Le sue opere hanno influenzato attraverso i secoli il teatro di tutti i tempi: da quello romano a quello rinascimentale e barocco, dai romantici a D'Annunzio, fino ai giorni nostri.
ESCHILO
• I Persiani • I Sette a Tebe • Le supplici • Prometeo incatenato • Agamennone • Le Coefore • Le Eumenidi
Traduzioni di Enzo Mandruzzato, Leone Traverso, Manara Valgimigli
SOFOCLE
• Antigone • Aiace • Èdipo re • Elettra • Filottete • Le Trachinie • Èdipo a Colono • I segugi
Cura e traduzione di Filippo Maria Pontani
EURIPIDE
• Alcesti • Medea • Ippolito • Gli Eraclidi • Ecuba • Andromaca • Le supplici • Eracle • Le troiane • Elettra • Elena • Ifigenia Taurica • Ione • Le fenicie • Oreste • Ifigenia in Aulide • Le Baccanti • Reso • Il Ciclope
Edizioni integrali
Eschilo nacque a Eleusi nel 525 o 524 a.C. da una famiglia benestante. Oltre che tragediografo fu attore e musicista. Partecipò alle guerre persiane e soggiornò più volte in Sicilia dove, alla corte di Ierone di Siracusa, entrò in contatto con i circoli pitagorici. Si tramandano i titoli di 73 opere a lui attribuite, ma di queste solo sette tragedie sono giunte fino a noi.
Euripide nacque a Salamina nel 480 a.C.. La maggior parte delle notizie che ci sono giunte su di lui proviene dalle parodie dei commediografi e non sono perciò molto attendibili. Sappiamo che da ragazzo fu torciere all'ara d'Apollo, che ebbe tre figli, e che morì a Pella nel 406. Non sappiamo con certezza quante opere abbia scritto. Ci restano comunque 17 tragedie certamente sue, una, Reso, considerata spuria, e il dramma satiresco Il Ciclope.
Sofocle nacque ad Atene, nel demo urbano di Colono, nel 497 a.C.. Di famiglia molto ricca, ricevette un'educazione raffinata. Fu grande amico di Pericle e partecipò alla vita pubblica ateniese con cariche importanti. Morì vecchissimo, nel 406 a.C.. Delle circa 130 tragedie che scrisse ne rimangono soltanto sette, oltre a 400 versi del dramma satiresco I segugi.
Per ricevere più informazione di
Authors Various
e
I tragici greci: Eschilo, Sofocle, Euripide
può essere consultata:
Delibris.org is an initiative supported by the Midwest Theological Forum (MTF) that springs from experiences of people that share a passion for reading and that take interest in known, from a catholic perspective, the content of books that have caught their attention.
Back
Others books by Authors Various
There are
12 ebooks
by this Author
Authors Various - Teatro breve del Siglo de Oro - Language: Spanish, Theater Play - Format: ePub
Las loas y entremeses, piezas teatrales de corta duración que solían acompañar con frecuencia a comedias y autos sacramentales, son dos de las formas de teatro breve más cultivadas por los grandes dramaturgos del Siglo de Oro. De (More)
Authors Various - Bajo dos banderas - Language: Spanish, Short Stories - Format: ePub
Doce escritores españoles se han unido en Bajo dos banderas, el primer libro de Zenda. La obra, patrocinada por Iberdrola, muestra doce relatos de España en la Guerra de la Independencia de los Estados Unidos, firmados por Juan (More)
Authors Various - Compendium Catechism of the Catholic Church - Language: English, Spiritual - Format: ePub
Pope Benedict XVI gives the Church the "food" that it seeks in the 598 questions and answers comprising the official summary of the Catechism of the Catholic Church. Because of the book's format, parents, pastors, teachers, (More)
Authors Various - Catechism of the Catholic Church 2nd Edition - Language: English, Spiritual - Format: ePub
The full, complete exposition of Catholic doctrine, this second edition of the international bestseller has been significantly expanded, enhancing both its content and usability. This updated second edition of the Catechism of the (More)
Authors Various - New American Bible - Revised Edition - Language: English, Spiritual - Format: ePub
We are proud to release an electronic edition of the New American Bible: Revised Edition (NABRE), which features an excellent formatting true to the paper edition and multiple navigation aids, which allow opening any verse in the (More)
Authors Various - Santos Evangelios (Universidad de Navarra) - Language: Spanish, Spiritual - Format: ePub
Edición digital de la Santos Evangelios a cargo de la Universidad de Navarra. – Introducción a cada Evangelio. – Comentarios a todos los pasajes. – Apéndice con las referencias del antiguo Testamento en el Nuevo, glosario de (More)
Authors Various - Homenaje a Tolkien, 19 relatos fantásticos - Language: Spanish, Short Stories - Format: ePub
En el alud de literatura fantástica post-tolkieniana, destacan algunos autores que escribieron el tipo de relatos que habrían agradado al mismo Tolkien. Escritores como Andre Norton, la reina de las novelas de aventuras (More)
Authors Various - I tragici greci: Eschilo, Sofocle, Euripide - Language: Italian, Complete Works of - Format: ePub
Altissima espressione poetica, nonché specchio degli sviluppi politici della polis ateniese nell'epoca classica, la tragedia greca è giunta fino a noi attraverso i secoli mantenendo inalterato il fascino archetipico che ne (More)
Authors Various - The New Testament - Language: English, Spiritual - Format: ePub
The New Testament, as usually received in the Christian Churches, is made up of twenty-seven different books attributed to eight different authors, six of whom are numbered among the Apostles (Matthew, John, Paul, James, Peter, (More)
Authors Various - Masters of the Short Story, Volume II - Language: English, Short Stories - Format: ePub
Boasting a rich variety of genres, this literary collection offers 22 of the greatest short stories ever written, featuring literature's finest authors, contextual images and insightful introductions. Contents THE LEGEND OF (More)
Authors Various - Masters of the Short Story, Volume I - Language: English, Short Stories - Format: ePub
This is a collection of 22 of the finest short stories every written, with contributions from authors such as Charles Dickens, Henry James and Anton Chekhov, to name but a few. Contents HORATIO SPARKINS by Charles Dickens DAISY (More)
Authors Various - La Bibbia (trad. C.E.I.) - Language: Italian, Spiritual - Format: ePub, iSilo
La Bibbia (biblìa, plurale di biblìon, significante libri) è il libro sacro della religione cristiana e di quella ebraica. È detta anche Parola di Dio o Sacre Scritture, per sottolineare l'ispirazione divina sotto la quale i (More)