Global Library
There are 1,574 ebooks with this criteria in the database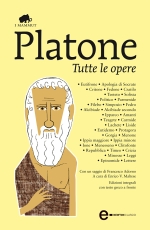 ePub
Language: Italian | Category: Complete Works of | Audio Book: Not Available
Consegnare al pubblico un'edizione integrale di Platone – in un unico volume – è una risposta nuova e di grande rilievo a una sfida intellettuale che dura da oltre venti secoli. Il contatto diretto con gli scritti platonici è un'esperienza di straordinaria ricchezza. Nei dialoghi di Platone vengono a fondersi tutte le precedenti tendenze del pensiero greco ma soprattutto si afferma il primato di un'inesausta ricerca della verità su ogni facile e presunta "affermazione della verità".• Eutifrone • Apologia di Socrate • Critone • Fedone • Cratilo • Teeteto • Sofista • Politico • Parmenide • Filebo • Simposio • Fedro • Alcibiade • Alcibiade secondo • Ipparco • Amanti • Teagete • Carmide • Lachete • Liside • Eutidemo • Protagora • Gorgia • Menone • Ippia maggiore • Ippia minore • Ione • Menesseno • Clitofonte • Repubblica • Timeo • Crizia • Minosse • Leggi • Epinomide • LetterePlatone è l'unico pensatore antico di cui siano rimaste tutte le opere integrali. Nacque ad Atene nel 427 a.C.; fu iniziato alla filosofia dall'eracliteo Cratilo, ma l'incontro con Socrate (408) rimane l'episodio più significativo per la sua maturazione intellettuale. Dopo la morte del maestro fu a Megara e poi in Italia meridionale. Tornò quindi ad Atene, fondando nel 387 l'Accademia, prima scuola filosofica dell'antichità. Morì nel 347 a.C. Di Platone la Newton Compton ha pubblicato Repubblica e il volume unico Tutte le opere.
Per ricevere più informazione di
Plato
e
Tutte le Opere
può essere consultata:
Delibris.org is an initiative supported by the Midwest Theological Forum (MTF) that springs from experiences of people that share a passion for reading and that take interest in known, from a catholic perspective, the content of books that have caught their attention.
Back
There are
2 ebooks
by this Author
Plato - Obras completas - Language: Spanish, Complete Works of - Format: ePub
Este ebook contiene la colección completa de las obras traducidas de Platón por D. Patricio Azcárate en 1871 y 1872. Es decir, contiene los 11 volúmenes completos, los 44 diálogos, por primera vez en lengua castellana. La obra (More)
Plato - Tutte le Opere - Language: Italian, Complete Works of - Format: ePub
Consegnare al pubblico un'edizione integrale di Platone – in un unico volume – è una risposta nuova e di grande rilievo a una sfida intellettuale che dura da oltre venti secoli. Il contatto diretto con gli scritti platonici è (More)