Global Library
There are 1,574 ebooks with this criteria in the database
Obras Completas
Teresa de Jesús, Santa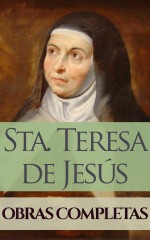 ePub
Language: Spanish | Category: Complete Works of | Audio Book: Not Available
Celebrando el 500 aniversario de la seráfica Santa Teresa de Jesús, Ebooklasicos se ha propuesto y ha cumplido traeros las obras Completas de la mística, con estudios introductorios del historiador Don Vicente de la Fuente (1817-1889). El ebook cuenta con un índice activo.
2 EDICIÓN: 22 de Diciembre de 2015
Interfaz mejorada, errores saneados, nueva portada…
——————————————
ÍNDICE GENERAL
——————————————
INTRODUCCIÓN
COMPENDIO DE LA VIDA DE SANTA TERESA
EL LIBRO DE LA VIDA
RELACIONES ESPIRITUALES
FUNDACIONES
CONSTITUCIONES
AVISOS ESPIRITUALES
MODO DE VISITAR LOS CONVENTOS
CAMINO DE PERFECCIÓN (CÓDICES ESCORIAL Y VALLADOLID)
CONCEPTOS DEL AMOR DE DIOS
MORADAS O CASTILLO INTERIOR
EXCLAMACIONES
POESÍAS
ESCRITOS CORTOS (21)
ESCRITOS ATRIBUIDOS
-Profecía de Portugal
-Constituciones de Calvarrasa
-Siete meditaciones del Pater Noster
ESCRITOS RELACIONADOS CON SU VIDA (31)
CARTAS (478)
——————————————-
Para obtener más información sobre
Teresa de Jesús, Santa
y
Obras Completas
se puede consultar:
Delibris.org is an initiative supported by the Midwest Theological Forum (MTF) that springs from experiences of people that share a passion for reading and that take interest in known, from a catholic perspective, the content of books that have caught their attention.
Back
Others books by Teresa de Jesús, Santa
There are
3 ebooks
by this Author
Teresa de Jesús, Santa - Obras Completas - Language: Spanish, Complete Works of - Format: ePub
Celebrando el 500 aniversario de la seráfica Santa Teresa de Jesús, Ebooklasicos se ha propuesto y ha cumplido traeros las obras Completas de la mística, con estudios introductorios del historiador Don Vicente de la Fuente (More)
Teresa de Jesús, Santa - Las moradas - Language: Spanish, Spiritual - Format: ePub, iSilo
Las moradas, llamado también El castillo interior es una obra de Teresa de Ávila escrita en 1577 como guía para el desarrollo espiritual a través del servicio y la oración. Empezó a escribir la obra el 2 de junio de 1577, (More)
Teresa de Jesús, Santa - El libro de su vida - Language: Spanish, Spiritual - Format: ePub
El libro de la Vida es el primero que escribe santa Teresa de Jesús, el más espontáneo y fresco, fiel reflejo de su personalidad y su experiencia humana y sobrenatural. El texto está cuajado de advertencias sobre la perseverancia, (More)