Global Library
There are 1,597 ebooks with this criteria in the database
Sun Tzu The Art of Making Money: Strategies for Getting Through a Tough Economy
Cheung, Michael M. K.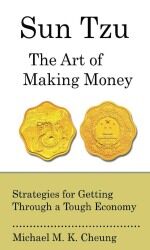 ePub
Language: English | Category: Self-Help | Audio Book: Not Available
Ask yourself:
Are you happy with your current financial situation?
Are you happy with your current job or career prospects?
Are you happy with your current level of success?
Do you make enough money?
After reading this book you will be well on your way to answering 'yes!' Michael Cheung utilizes Sun Tzu's strategies for war and applies them to today's financial environment. Learn the secrets behind financial growth, how to improve your career prospects, boost your level of success and start making the money you deserve.
In this inspiring book Michael Cheung uses wisdom that was once applied to the battlefield to demonstrate clear tactics for capitalising on one's potential. He will boost your ego, help to define your goals and set you on the path of financial fulfilment.
More information about
Cheung, Michael M. K.
and
Sun Tzu The Art of Making Money: Strategies for Getting Through a Tough Economy
is available in:
Delibris.org is an initiative supported by the Midwest Theological Forum (MTF) that springs from experiences of people that share a passion for reading and that take interest in known, from a catholic perspective, the content of books that have caught their attention.
Back
Others books by Cheung, Michael M. K.
There are
1 ebooks
by this Author
Cheung, Michael M. K. - Sun Tzu The Art of Making Money: Strategies for Getting Through a Tough Economy - Language: English, Self-Help - Format: ePub
Ask yourself: Are you happy with your current financial situation? Are you happy with your current job or career prospects? Are you happy with your current level of success? Do you make enough money? After reading this book you (More)