Global Library
There are 1,597 ebooks with this criteria in the database
Cómo ganar amigos e influir sobre las personas
Carnegie, Dale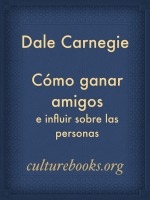 ePub
iSilo
Language: Spanish | Category: Self-Help | Audio Book: Not Available
Cómo ganar amigos e influir sobre las personas es uno de los primeros "best-sellers" de autoayuda publicados. Escrito por Dale Carnegie y publicado por primera vez en 1936, se han vendido 15 millones de copias en todo el mundo.
Leon Shimkin, de la firma publicitaria Simon & Schuster tomó uno de los cursos de 14 semanas impartidos por Carnegie en 1934. Shimkin convenció a Carnegie para dejar que un taquígrafo tomara notas de su curso para preparar una publicación. En 1981, una nueva edición revisada con un lenguaje actualizado y anécdotas fue lanzada al mercado. Esta edición revisada reducia el numero de capitulos de 6 a 4 y eliminaba secciones como escribir cartas de ventas eficaces y mejorando tu vida familiar.
Para obtener más información sobre
Carnegie, Dale
y
Cómo ganar amigos e influir sobre las personas
se puede consultar:
Delibris.org is an initiative supported by the Midwest Theological Forum (MTF) that springs from experiences of people that share a passion for reading and that take interest in known, from a catholic perspective, the content of books that have caught their attention.
Back
Others books by Carnegie, Dale
There are
3 ebooks
by this Author
Carnegie, Dale - How to Wind Friends and Influence People - Language: English, Self-Help - Format: ePub
How to Win Friends and Influence People is one of the first best-selling self-help books ever published. Written by Dale Carnegie (1888-1955) and first published in 1936, it has sold over 30 million copies world-wide, and went on (More)
Carnegie, Dale - The Art of Public Speaking - Language: English, Self-Help - Format: ePub
Dale Carnegie (spelled Carnagey until c. 1922) (November 24, 1888 – November 1, 1955) was an American writer and lecturer and the developer of famous courses in self-improvement, salesmanship, corporate training, public speaking, (More)
Carnegie, Dale - Cómo ganar amigos e influir sobre las personas - Language: Spanish, Self-Help - Format: ePub, iSilo
Cómo ganar amigos e influir sobre las personas es uno de los primeros "best-sellers" de autoayuda publicados. Escrito por Dale Carnegie y publicado por primera vez en 1936, se han vendido 15 millones de copias en todo el (More)