Global Library
There are 1,597 ebooks with this criteria in the database
The Art of Public Speaking
Carnegie, Dale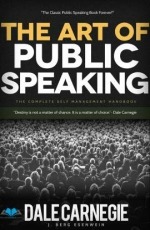 ePub
Language: English | Category: Self-Help | Audio Book: external webside
Dale Carnegie (spelled Carnagey until c. 1922) (November 24, 1888 – November 1, 1955) was an American writer and lecturer and the developer of famous courses in self-improvement, salesmanship, corporate training, public speaking, and interpersonal skills. Born into poverty on a farm in Missouri, he was the author of How to Win Friends and Influence People (1936), a massive bestseller that remains popular today. He also wrote How to Stop Worrying and Start Living (1948), Lincoln the Unknown (1932), and several other books. In 1915 wrote The Art of Public Speaking.
More information about
Carnegie, Dale
and
The Art of Public Speaking
is available in:
Delibris.org is an initiative supported by the Midwest Theological Forum (MTF) that springs from experiences of people that share a passion for reading and that take interest in known, from a catholic perspective, the content of books that have caught their attention.
Back
Others books by Carnegie, Dale
There are
3 ebooks
by this Author
Carnegie, Dale - How to Wind Friends and Influence People - Language: English, Self-Help - Format: ePub
How to Win Friends and Influence People is one of the first best-selling self-help books ever published. Written by Dale Carnegie (1888-1955) and first published in 1936, it has sold over 30 million copies world-wide, and went on (More)
Carnegie, Dale - The Art of Public Speaking - Language: English, Self-Help - Format: ePub
Dale Carnegie (spelled Carnagey until c. 1922) (November 24, 1888 – November 1, 1955) was an American writer and lecturer and the developer of famous courses in self-improvement, salesmanship, corporate training, public speaking, (More)
Carnegie, Dale - Cómo ganar amigos e influir sobre las personas - Language: Spanish, Self-Help - Format: ePub, iSilo
Cómo ganar amigos e influir sobre las personas es uno de los primeros "best-sellers" de autoayuda publicados. Escrito por Dale Carnegie y publicado por primera vez en 1936, se han vendido 15 millones de copias en todo el (More)