Global Library
There are 1,597 ebooks with this criteria in the database
Dragon Rider
Funke, Cornelia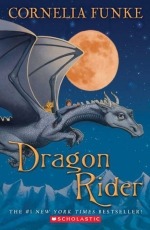 ePub
Language: English | Category: Novel (Fantasy & Sc. Fic.) | Audio Book: Not Available
With a lonely boy named Ben on board, the brave young dragon Firedrake sets out on a magical journey to find the mythical place where silver dragons can live in peace forever. Flying over moonlit lands and sparkling seas, they encounter fantastic creatures, summon up surprising courage–and cross the path of a ruthless villain with an ancient grudge who's determined to end their quest. Only a secret destiny can save the dragons in this enchanting adventure about the true meaning home.
Aimed at slightly younger readers than her previous novels, despite its massive five hundred pages, Dragon Rider is about a brave young dragon called Firedrake who embarks upon a dangerous journey to the Rim of Heaven in the Himalayas–a magical place where silver dragons can rest easy, free from the threat of destruction by mankind and their only hope of sanctuary. The key to its location is a map rendered by a rat who is a master cartographer.
More information about
Funke, Cornelia
and
Dragon Rider
is available in:
Delibris.org is an initiative supported by the Midwest Theological Forum (MTF) that springs from experiences of people that share a passion for reading and that take interest in known, from a catholic perspective, the content of books that have caught their attention.
Back
Others books by Funke, Cornelia
There are
5 ebooks
by this Author
Funke, Cornelia - El jinete del dragón - Language: Spanish, Novel - Format: ePub
La tierra de los dragones en Escocia ha sido amenazada por los humanos. Lung, un joven dragón, tendrá que buscar ayuda antes de volar hacia el Himalaya, donde según las leyendas se escondieron los últimos dragones. Acompañado de (More)
Funke, Cornelia - Dragon Rider - Language: English, Novel - Format: ePub
With a lonely boy named Ben on board, the brave young dragon Firedrake sets out on a magical journey to find the mythical place where silver dragons can live in peace forever. Flying over moonlit lands and sparkling seas, they (More)
Funke, Cornelia - Muerte de tinta (Mundo de tinta, 3) - Language: Spanish, Novel - Format: ePub
Después de Corazón de Tinta y Sangre de Tinta, en este fulminante final de la trilogía, hay sombras negras en Umbra… Han pasado solamente pocas semanas desde que las Mujeres Blancas se llevaran consigo a Dedo Polvoriento. Meggie y (More)
Funke, Cornelia - Sangre de tinta (Mundo de tinta, 2) - Language: Spanish, Novel - Format: ePub
La vida parece que vuelve a ser apacible en la casa de tía Elinor y en su fascinante biblioteca, o con el regreso de Resa, o con Mo (Lengua de Brujo) de nuevo encuadernando y «sanando» libros enfermos; pero el peligro vuelve a (More)
Funke, Cornelia - Corazón de tinta (Mundo de tinta, 1) - Language: Spanish, Novel - Format: ePub
Quiénes son de verdad Dedo Polvoriento, Capricornio o Lengua de Brujo lo sabrá la joven Meggie por las respuestas que encuentre en un viejo pueblo de las montañas de Liguria… y también en un libro. Cuando Mo, el padre de Meggie, (More)