Global Library
There are 1,597 ebooks with this criteria in the database
A Man and Some Others
Crane, Stephen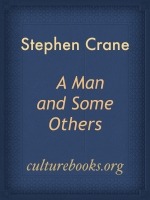 ePub
Language: English | Category: Short Stories (Realistic) | Audio Book: Not Available
Stephen Crane (November 1, 1871 – June 5, 1900) was an American author. Prolific throughout his short life, he wrote notable works in the Realist tradition as well as early examples of American Naturalism and Impressionism. He is recognized by modern critics as one of the most innovative writers of his generation.
More information about
Crane, Stephen
and
A Man and Some Others
is available in:
Delibris.org is an initiative supported by the Midwest Theological Forum (MTF) that springs from experiences of people that share a passion for reading and that take interest in known, from a catholic perspective, the content of books that have caught their attention.
Back
Others books by Crane, Stephen
There are
6 ebooks
by this Author
Crane, Stephen - Complete Works of Stephen Crane - Language: English, Complete Works of - Format: ePub
The American novelist Stephen Crane is now recognised by modern critics as one of the most innovative writers of his generation. Having won international acclaim in 1895 for his Civil War novel 'The Red Badge of Courage', Crane (More)
| | |
| --- | --- |
| | Crane, Stephen - Bote abierto, El - Language: Spanish, Short Stories - Format: iSilo |
| | |
| --- | --- |
| | Crane, Stephen - Tres soldados maravillosos - Language: Spanish, Short Stories - Format: iSilo |
Crane, Stephen - The Red Badge of Courage - Language: English, Novel - Format: ePub
The Red Badge of Courage is a war novel by American author Stephen Crane (1871–1900). Taking place during the American Civil War, the story is about a young private of the Union Army, Henry Fleming, who flees from the field of (More)
Crane, Stephen - Maggie, a Girl of the Street - Language: English, Novel - Format: ePub
Originally published in 1893, Maggie: A Girl of the Streets tells the story of the impoverished Johnson family and their experiences living in the squalid Bowery neighborhood of New York City. When the eldest of the Johnson (More)
Crane, Stephen - A Man and Some Others - Language: English, Short Stories - Format: ePub
Stephen Crane (November 1, 1871 – June 5, 1900) was an American author. Prolific throughout his short life, he wrote notable works in the Realist tradition as well as early examples of American Naturalism and Impressionism. He is (More)