Global Library
There are 1,627 ebooks with this criteria in the database
South Pole, The
Amundsen, Roald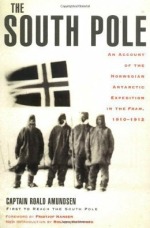 iSilo
Language: English | Category: History & Biography | Audio Book: external webside
In contrast to Scott's South Pole expedition, Amundsen's expedition benefited from good equipment, appropriate clothing, and a fundamentally different primary task (Amundsen did no surveying on his route south and is known to have taken only two photographs). Amundsen had a better understanding of dogs and their handling, and he used of skis more effectively. He pioneered an entirely new route to the Pole, and they returned. In Amundsen's own words: "Victory awaits him who has everything in order — luck, people call it. Defeat is certain for him who has neglected to take the necessary precautions in time; this is called bad luck." Short accounts by other members of the party are appended.
More information about
Amundsen, Roald
and
South Pole, The
is available in:
Delibris.org is an initiative supported by the Midwest Theological Forum (MTF) that springs from experiences of people that share a passion for reading and that take interest in known, from a catholic perspective, the content of books that have caught their attention.
Back
Others books by Amundsen, Roald
There are
1 ebooks
by this Author
Amundsen, Roald - South Pole, The - Language: English, History & Biography - Format: iSilo
In contrast to Scott's South Pole expedition, Amundsen's expedition benefited from good equipment, appropriate clothing, and a fundamentally different primary task (Amundsen did no surveying on his route south and is known to have (More)